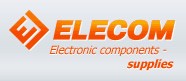 Elecom Co., Ltd
B. Khmelnitskogo, 52-B, of. 312
Kyiv
Informationen
Elecom Co., Ltd. has been successfully operating on the market of electronic components since 1994. The core competence of Elecom is the ability to procure the most hard-to-find of ICs, semiconductors, passives and other electronic components including those taken off manufacturing and obsolete. Since 2007 we are the partner of Seoul Semiconductor Co., ltd. (South Korea), the world top-level producer of different LED`s nomenclature. Among them- Super Light Output LED, the LED with highest luminous flux, RGB LED for various applications. We sell only new parts and always gives an unconditional guarantee that the parts you buy will meet all manufacturers specifications. Our staff is prepared to serve your needs with the utmost in quality and professionalism that we believe sets the standard by which our competition will have to follow.
Our loyal clients is represented by the companies from USA, UK, Germany, Israel, Spain, Italy, Russian Federation, Ukraine, France, Hong Kong, China, Korea, Singapore, Japan and other countries around the globe.
We'll be looking forward to here from manufacturers of electronic components worldwide interested in establishing and growing their market presence in Ukraine as well as in other republics of the former USSR. Our proved business model, solid industry reputation and experience coupled with the vast business network will be of added value in representing your interests either by being your authorized dealer or a trade representative.
Our purpose - to satisfy needs of manufacturers for electronic components of the best quality at reasonable prices.