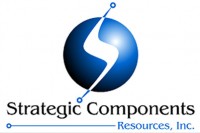 Strategic Components Resources, Inc.
855 A South First Street
NY 11779 Ronkonkoma
Informationen
Strategic Components Resources, Inc is a leading Independent Distributor of electronic components, interconnect products and accessories. We stock a variety of components including: Current, ROHS Compliant, Allocated, Obsolete and Hard-to-Find parts. With literally thousands of additional sources and 25 years of experience in the electronic component marketplace, Strategic Components Resources, Inc. is the perfect choice for all of your military and commercial integrated circuits, semiconductors and connectors on the shelf and ready to ship same day ARO.
Specific products that we're very strong include: MIL-C-28840, MIL-C-38999, MIL-C-5015, MS3100, MS3102, MS3106, MS3112, MS3116, MS3122, MS3126, and M85049 connectors. We can also fill your needs for all JAN level transistors, JM38510/ semiconductors and 5962- microcircuits and can supply manufacturer C of C's and/or re-certification paperwork for our military products where applicable.
Our commitment to continuous quality improvement and the need to exceed our customer's satisfaction will decrease your bottom line, reduce your lead times and increase the efficiency of your supply chain. We provide a total solution to make sourcing initiatives more responsive and cost effective for our customers. Contact one of our Sales Representative's today with your production or shortage requirements.